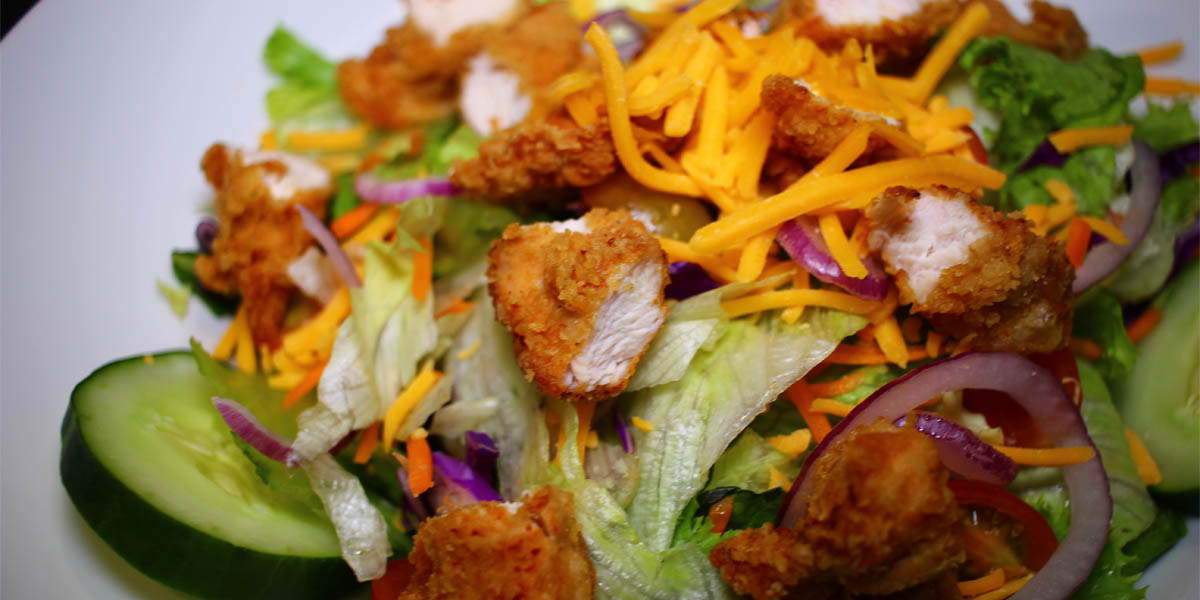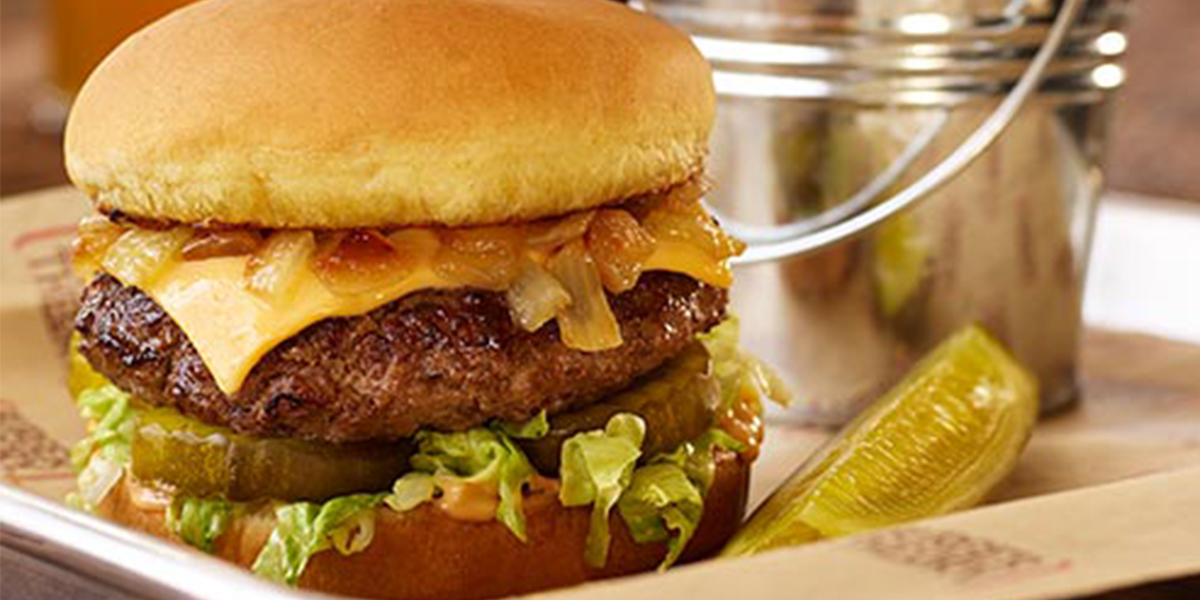 STARTERS
Buffalo Wings
Wings Your Way • Buffalo • BBQ • Served with bleu cheese or Ranch Dipping Sauce • &  
Fried Pickle Chips
Crispy Fried Dill Pickle Chips • Served with Sriracha Ranch Dipping Sauce 
Nacho Fries
BT Queso • pico de gallo • sour cream • guacamole •  Add ground beef or chicken  for $2.00
Soft Pretzel Sticks w/ BT Queso
Fried Pretzel Sticks • Housemade IPA Mustard
Firecracker Shrimp
Lightly Fried Jumbo Shrimp Served with Sweet Red Chili sauce for Dipping
SALADS
Crispy Chicken
Fresh mixed greens • cucumbers • tomatoes • Chedder cheese • crispy buttermilk chicken strips 
12.50
Add or Substitute Grilled or Crispy Shrimp $5.00
BT Cobb Salad
Grilled Chicken • bacon • tomato • cucumber • red onion • chopped egg • crumbled blue cheese 
Chicken Caesar
Romaine • Parmesan cheese • garlic croutons • Grilled Chicken•
HOUSE BURGERS*
Served on a potato bun or lettuce wrap with your choice of French Fries or Coleslaw. Substitute Onion Rings or a House Salad for 1.00 
The Classic
American cheese • grilled onions • tomato • lettuce • pickles • KGB sauce 
Single 15.00 | Double 18.00
Lonestar
Cheddar cheese • bacon • onion ring • BBQ sauce 
Single 16.00 | Double 19.00
Breakfast Burger
Cheddar • Bacon • Fried Egg • Roasted Garlic Mayo•
Single 16.00 | Double 19.00
Queso Burger
Pepper Jack Cheese • Lettuce • Guacamole • Pico de Gallo • KGB Sauce 
Single 16.00 | Double 19.00
Ultimate Sriracha
Swiss Cheese • bacon • lettuce • tomato • sriracha mayo 
Single 16.00 | Double 19.00
{BT BOSS}
1/2 Pound Burger Stuffed with Cheddar Cheese • Swiss Cheese • Bacon• Grilled Onions• Topped with Swiss Cheese + Cheddar Cheese• Lettuce• KGB Sauce
Single 19.00| Double 24.00
The Philly
American Cheese • Onions • Mushrooms• Roasted Peppers• Lettuce• KGB Sauce
Farm Fresh
Boursin Cheese • Grilled Onions • Portabella Mushrooms• Roasted Red Peppers• Lettuce• Roasted Garlic Mayo
BUILD YOUR BURGER*
Served on a potato bun or lettuce wrap with your choice of French Fries or Coleslaw. Substitute Onion Rings or a House Salad for 1.00.
Step 1: Choose it
Beef: Our own blend of Certified Angus Beef™ chuck, brisket, and short rib
Chicken Breast: House-marinated and grilled 
Veggie: 100% meatless with mixed grains and vegetables 
Step 2: Size It
Choose between a single 13.50, double 16.50, or triple 18.50
Step 3: Top It
Cheese: Choose One American • Cheddar • Swiss •  Monterey Jack • Bleu, Boursin™
Veggies: Lettuce • Tomato • Onion • Pickles 
Sauce: KGB (Killer Good Burger) Sauce • Ketchup • Mustard • Mayonnaise • Roasted Garlic Mayo • BBQ Sauce • Buffalo • Sriracha Mayo •  Sweet Red Chili Sauce 
Step 4: Load It ($1 each)
Grilled Onions • Coleslaw • Onion Ring • Sauteed Mushrooms •  Thick-Cut Bacon •Green Pepper • Jalapenos • Fried Egg
NO BURGER NO PROBLEM
Crispy Fish Sandwich
Parmesan-panko cod fillet • tarter sauce • shredded lettuce • fresh potato bun
Fish Tacos
Parmesan-Panko Atlantic Cod • Cabbage• Pico de Gallo• Cilantro Crema• Flour Tortillas
Spicy Chicken Wrap
Crispy chicken tenders •  Buffalo sauce •  lettuce •  tomato •  blue cheese dressing • flour tortilla
Sriracha Sirloin*
House Marinated Sirloin • Sriracha Glaze • Smashed Potatoes•Grilled Vegetables
Nine Inch Pizza
Choose 3 Toppings • Pepperoni • Sausage • Bacon • Mushrooms • Onions • Peppers
Your new Breakfast spot

Specialty Menu
SPECIALTIES
Pancakes
American cheese • grilled onion • lettuce • pickles • KGB sauce
6.00
Traditional French Toast
Cheddar cheese • bacon • Parmesan-panko onion ring • BBQ sauce
6.00
Sunrise Sandwich*
Pepper Jack Cheese • lettuce • guacamole • pico de gallo • KGB sauce
6.00
Morning Breakfast Burrito*
Cheddar cheese • bacon • fried egg • roasted garlic mayo
6.00
Western Skillet*
Swiss cheese • bacon • lettuce • tomato • sriracha mayo
6.00
Eggs Benidict*
A timeless classic of two poached eggs and ham atop of an English muffin and topped with Hollandaise sauce
Florentine Benidict*
Two poached eggs with mushrooms and spinach atop an English muffin and topped with Hollandaise sauce
Grilled Avocado And Tomato Panini
Grilled tomatoes layered on multigrain bread with avocado and topped with pepper jack cheese
Veggie Skillet
Two eggs any style, broccoli, mushrooms, peppers, onion and tomato combined with breakfast potatoes and topped with shredded Cheddar.
---
HOTEL FAVORITES
Innjoyable Breakfast*
Two eggs any style served with breakfast potatoes, choice of meat and toast
Slider Trio*
One of each Bacon-Ham-Sausage slider, topped with fluffy scrambled eggs and cheddar cheese served with breakfast potatoes
Tailor Made 3 Egg Omelet*
Made with your choice of 1 meat, (sausage, ham, or bacon), 1 cheese, (cheddar, Swiss, American, pepper jack, or provolone), and 3 vegetables, (peppers, onions, tomatoes, mushrooms or spinach) served with breakfast potatoes and toast
Start Fresh Wrap *
Egg whites scrambled with mushrooms, spinach, onions, and provolone cheese, wrapped in a whole wheat tortilla and served with breakfast potatoes
Malted Mini Waffles
Crispy waffles served with berries,whipped cream and warm syrup
Build Your Perfect Breakfast*
Choose your two eggs, meat, and a side, Perfect!
SIDES
Fruit 5 • Bacon 5 • Sausage 5 • Ham 5 • Cereal w/milk 6 • Toast 3 • Breakfast Potatoes 4
BEVERAGES
Coffee 3 • Juice 4 • Tea 3 • Milk 3 •Assorted Soft Drinks 3
*Consuming raw or undercooked meats, poultry, seafood, shellfish or eggs may increase your risk of foodborne illness
become a

Lunch Club Member
Buy 5 burgers get 1 FREE!
Pick up a card at your next visit to Burger Theory! Some exclusions may apply.
Hours
---
Breakfast
Monday - Friday: 6am-10am
Saturday - Sunday: 7am-11am
Lunch
Monday - Friday: 11am - 2pm
Dinner
All Week: 5pm - 10pm
Bar is open until 10pm.
---
Contact
---
Address 8555 Stansted Dr, Indianapolis, IN 46241
Phone (317) 856-6200
Email [email protected]